OUR SOLUTIONS FOR LEARNING MEDIA
HTML5, Video, Simulations, Games, Learning Objects
Our multimedia services include:
Your learners are more engaged—and their online learning experience is amplified—when we add interactivity to your eLearning solution via scenarios, games, and simulations. The Monarch Media team has designed and developed hundreds of compelling courses and learning objects using HTML5, Flash, and other video and animation technologies.



Leveraging Learning Objects
Learning objects are a new way of thinking about learning content by breaking it down into smaller, self-contained, reusable units.
Monarch Media has harnessed the power of learning objects by developing OSLO™ (open-standard learning objects), our unique pre-built library of learning objects that bring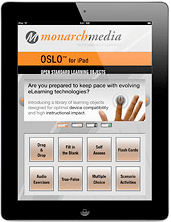 s customizable plug-and-play functionality to eLearning interactions.
Our learning objects bring a new level of  learning interactivity to online courses and trainings by making them accessible on mobile devices.