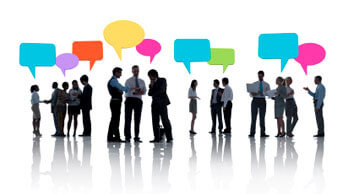 This political season, we were inundated with debates. As a learning tool, debate is unmatched in its ability to help learners develop critical thinking skills. To debate a topic, learners must gather enough information about it to form an opinion, argue in defense of that opinion, and understand and be ready to address any vulnerabilities in their argument.
These skills have obvious applications in the professions of law and politics, but A.J. Freeley (co-founder of the American Forensics Association) has argued that the critical thinking developed through debate is "a requisite intellectual skill for self-realization as an effective participant in human affairs, for the pursuit of higher education, and for successful participation in the highly competitive world of business…." (Parcher, 1998). In short, critical-thinking skills honed through debate can help students succeed in whatever career they choose.
An Engaging Learning Tool
For hundreds of years, debate has been an integral tool in creating an engaging learning atmosphere in classrooms. As instructors of blended and Web-based courses struggle to find new and creative ways to engage student enthusiasm with learning, how can we leverage the obvious benefits of debate in the online environment?
From the onset, the social media forums offered through Web 2.0 capabilities have provided tools that can be used to simulate debate: forums introduce users to a variety of perspectives, offer the opportunity to share distinct positions, and provide an outlet for helping learners further hone their thoughts and beliefs by fielding reactions to their posts. Despite the great promise of these tools, many instructors report low involvement in these online debates. So, is there an issue with the tool or with the way we are using it?
In the spirit of the current political season, I'll offer the reply, "It's too soon to call." What we do know is that there are some ways we can maximize engagement in online forums and stimulate the critical thinking of debate:
1) Meet the students where they are.
Why kick students out of a reading to a separate forum area to comment on the reading? Integrate the forum capability into the reading assignment so learners can add their thoughts easily without getting sidetracked. If you are using the forum in an open way to continue in-class discussions or ask that students consider a topic for which there is no reading, find out where the learners are – Facebook, Twitter, Ning, Google+, etc. – and leverage tools they already use instead of requiring them to use a different tool specifically for school.
2) For blended or classroom-based learning environments, use social media as an opportunity to go deeper into topics for which there is authentic student-led interest but insufficient time to cover during class.
How many classes have you attended where there was a really provocative question that the instructor chose to gloss over or leave behind because it was too tangential? What if instead the instructor said, "That's a GREAT discussion topic, add it to our Google+ circle, and let's continue that conversation there!" In this way, you are empowering and modeling for the students that the forum is their tool and leveraging interest in a topic that is already alive.
3) Make it mandatory … and optional.
Many instructors make the mistake of requiring students to make a certain number of posts per topic. I can think of few ways to kill intrinsic motivation faster. It is reasonable to set a requirement for students to participate over the course of a semester a certain number of times, but allow them to comment on the topics about which they have organic interest and emphasize that commenting on comments COUNTS! Yes, some students will exploit this loophole with an impotent "Yes, I agree with Eduardo" in which case it is incumbent upon the instructor to clarify what constitutes a meaningful discourse … a great lesson in itself.
Encouraging Engagement
Using social media tools to simulate classroom discussion and debate opportunities is still relatively new to the eLearning world. Education researchers and instructional designers are still exploring the best ways to use Web 2.0 capabilities to improve student engagement and learning results.
But both the literature and Monarch Media's own experiences tracking eLearning effectiveness have shown us that social media tools like forums have the potential to better engage and generate enthusiasm among learners. Our research for clients such as the National Institutes of Health has shown that these tools have great potential to boost learning outcomes.
This article appeared in the Fall 2012 edition of Monarch Media's Planet eLearn newsletter. If you would like more information about how Monarch Media can help you add social learning to your course or training, please make an inquiry.