Despite their diversity, your employees, customers, partners, and other stakeholders share at least one thing in common: they all almost certainly use a mobile device. These gadgets' ubiquity has led many eLearning experts to believe that in the near future, most training and educational programs will include an mLearning component.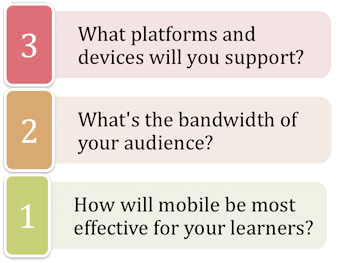 Mobile learning also creates a new set of challenges for trainers, teachers, and content providers. Not only do they need to select what platforms and devices to support, they must also decide what formats and media are appropriate for their content and their audience's bandwidth limitations. And, most importantly, they need to determine the best and most effective ways to enhance learning when incorporating mobile content into their courses. Because of these factors, making mLearning a part of an overall learning strategy, rather than an end in itself, is crucial for success.
The Case for mLearning
According to media research firm Nielsen, 91 percent of Americans are mobile subscribers. By the end of 2011, more than half of them will be using a smart phone. And this isn't just a U.S. phenomenon. Worldwide, there were more than 5 billion mobile subscribers in 2010, and smart phones are the fastest growing device category among them.
By 2013 the number of smart phones worldwide will surpass PCs, 1.82 billion to 1.78 billion. (Source: Gartner Research)
Although the phone is the most popular mobile device, it's by no means the only one. Laptops, iPods, netbooks, and iPads all can give users access to vast amounts of information via the Web and applications.
Because — unlike desktop computers — most users have mobile devices with them at all times, mLearning offers teachers and trainers the chance to reach learners outside the classroom. It also gives people greater access to information where and when they need it than ever before.
Mobile Strategy — Think Performance Support
Because of their small screen sizes and the ways people use them, mobile devices are usually not ideal for delivering complete courses. Researchers have found that unlike desktop computers, which are generally accessed for long periods each day, mobile devices are usually used frequently but for a very limited time and purpose — for example, to check the weather, look up flight times, scan emails, or get information from a favorite app.
Studies of mLearning confirm this. A 2010 survey conducted by SumTotal found that most corporate training departments are using mobile learning for a limited number of applications, including:
Sales tips,
Surveys,
Job aids,
Check lists, and
Product knowledge reinforcement.
What this and other studies show is that mLearning is most effective when used to offer learners performance support rather than formal training courses.
Success Stories
Enhancing learner performance by offering a mobile component or add-on to your course sounds great in theory, but what does it look like in action? Here are some examples that show how mLearning can work in practice: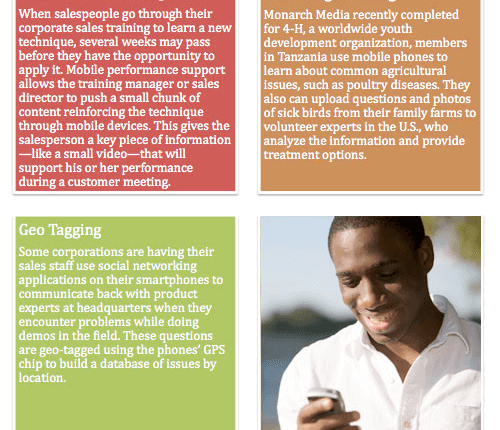 Embracing Mobility
Mobile devices are already the most common way people communicate and access Internet-based information across the globe. Through careful planning and by understanding its strengths and weaknesses, your organization can use mLearning to help it achieve its training and educational goals.
If you would like more information about how Monarch Media can help you devise and execute an mLearning strategy, please make an inquiry.