When it comes to corporate training programs, none are more important to the bottom line than sales training. Companies need to ensure that their sales teams understand products from the inside out, and have the information and motivation needed to close deals with customers.
But sales training providers—both internal and external—are feeling the pressure to provide more benefit at less cost. To accomplish this, many are experimenting with offering some or all of their sales training online, whether in the form of live webinars, asynchronous eLearning courses, or some combination of the two.
A Growing Trend
Because of its importance, companies have been slower to experiment with sales trainings in an eLearning format than other types of training. Recent studies by Forrester Research and Aberdeen Research show that although more than 60 percent of all corporations have eLearning initiatives, 70 percent of those companies still list classroom sessions as their primary mode for sales training.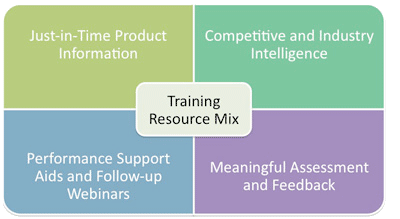 Image Credit: Vivayic Inc.
But the economic downturn of the past three years is changing things. Elearning is the fastest-growing modality for sales training.
Technology improvements and generational preferences are also driving sales training online. As new tools make it faster and more efficient than ever to publish sales materials on the Web in effective, interactive formats, organizations are recognizing the benefits of just-in-time learning.
Furthermore, younger employees, who grew up with the Internet, are expressing strong preferences for blended learning options. They prefer a combination of classroom training followed up with—and enhanced by—an eLearning component.
Faster, Cheaper, Smarter
The search for costs savings is still the chief driver for moving sales training online. Recent studies suggest that companies that do are saving 30 percent to 70 percent on travel costs and lost productivity.
Beyond these savings, however, eLearning offers some substantial enhancements and advantages for training a sales force. These include:
Fast reaction times—when a company has to introduce a new product quickly to gain a competitive advantage, it's critical to provide all relevant information and training to the sales team as quickly as possible. Online training allows rapid product data dissemination.
Greater reach—eLearning lets companies more easily train far-flung, global sales reps. It also helps people who miss an in-person training get caught up and stay abreast of what's relevant.
Review and reinforcement—because online training materials can be retrieved and reviewed as needed, salespeople can brush up on critical materials and skills to prepare for customer presentations. They can also accomplish training goals during slow periods, maximizing their productivity.
Blended Benefits
Another advantage of online sales training programs is that research shows they are a key part of successful blended learning programs. A 2008 study by the American Society for Training and Development (ASTD) found that providing and maintaining basic sales skills was the top challenge for training programs.
… companies that do are saving 30 percent to 70 percent on travel costs and lost productivity.
One of the best ways to help your sales team hone these abilities is by providing blended learning. Skills taught using a mix of different formats are usually learned more effectively and are remembered for a longer time than those that are presented using only a single modality, such as classroom training.
New technology is also making blended learning easier to accomplish. Because online training can now offer much of the interactivity and engagement that in-person sessions provide, learners can get the feedback and encouragement they need to master new skills. Salespeople don't need to miss out on the motivational and social aspects of training just because they're not in the same room.
A Changing Paradigm
The convergence of economic, technological, and workforce preference factors will continue to drive more and more sales training online for the foreseeable future. But it's not enough to simply port in-person materials into eLearning courses.
Creating successful online sales training programs requires expertise, creativity, and experience in eLearning best practices. Companies need to use a skillful blend of synchronous and asynchronous experiences. They need to include engagement in the form of interactions and rich multimedia. And they need assessments to help them ensure they're achieving their training goals and that their sales team is mastering critical skills.
Online sales training will continue to grow and evolve. Make sure your company is ready to maximize its benefit to help it become a best-in-class sales organization.
If you would like more information about how Monarch Media can help you build an effective sales eLearning program, please make an inquiry.