By Regina Firpo-Triplett, Claire Schneeberger & Veronica Phillips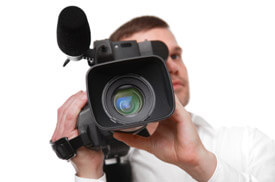 We've all heard the mantra, "Show, don't tell." Indeed, research has shown that visually demonstrating a new skill or behavior can be an important component of multi-modal instruction.
That's one reason why video has become a frequently used tool in instructional designers' toolkits. Live-action video can enhance eLearning courses, showing learners how to perform new tasks and providing a human element that is lost in animated scenarios.
Despite its advantages, many eLearning developers hesitate to use video. Creating interesting, professional videos does take some planning and technical skill. There's also a fear of perceived high cost. But none of these barriers are insurmountable. By employing these five tips to know when to use it, how to maximize its effectiveness, and how to keep costs reasonable, you can make video a key part of your next online course.
Tip #1: Use Video to Model Behavioral Skills
Video is an especially good method for modeling behavioral skills in online training courses. Behavioral skills — also called soft skills — are tough to teach online because they are best understood when modeled and presented in context. That's why video is effective for teaching the nuances of tone and body language that make up the subtleties of human communication.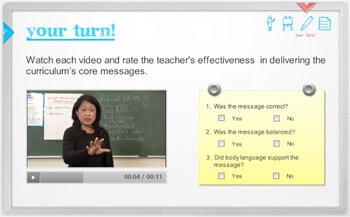 View a sample of this training
Perhaps the most challenging training we ever developed was one we created for high school health teachers who teach teens about pregnancy and STD/HIV prevention. Try getting a group of hormone-raging teens in one room and talk about sex. Successful teachers communicate information to their students through body language and intonation, and gauge student understanding by reading non-verbal cues. These are skills that need to be seen and practiced to master.
In a survey taken after completing the course, 96% of users indicated that the course's video components were the most useful in reinforcing behavioral skills. Many invested an average of twice the amount of suggested time in the course because components like the videos kept them in their seats.
Tip #2: Keep It Short
One of the ways to keep learners engaged is to be mindful of video length.
Not every video needs to be a feature-length film, so try breaking up lengthy content into one- to two-minute, bite-sized snippets and vary the length depending on the content requirements. Generally speaking, the longer the video, the less likely your user will watch it to completion. Most experts recommend keeping your video clips shorter than three minutes, (There's a reason why movie trailers tend to be run about this long).
For long-form content that cannot be edited down, try making a short introductory video to capture learners' attention. Twistage.com, an online media management company, has gathered metrics comparing user drop-off rates for 10-minute videos vs. audio podcasts containing the same content. The data shows that although the majority of audio podcast listeners will stick around for the full 10 minutes, half of video viewers will tune out after two minutes. Always keep in mind the mantra "shorter is better" when developing your video scripts and storyboards.
Tip #3: Add an Interactive Component
Another means of keeping learners engaged with video is by letting them offer feedback or take part in an interactive activity based on what they've seen. Instead of using videos for "show-and-tell," turn them into show-and-ask activities. Add questions and quizzes that focus on key behaviors and video content.
Learn about video strategies you can use to be cross-device compatible.
Or, make it social. In one of our training courses, we paired video skills training with both topical polls and a blog moderated by an expert, which gave learners opportunities to engage in dialog with their peers and ask questions about specific skills they'd just seen modeled.
Tip #4: Be Realistic About Capabilities and Budget
One real challenge in incorporating video is keeping production costs down—not everyone is Steven Spielberg with oodles of production dollars at his or her disposal. Bear in mind that if you go the live-action route, you'll have to shell out funds for hiring actors, producing, and editing. However when compared to the costs of delivering live training to a globally distributed user base, the cost savings of video training can be huge.
One way to manage costs is to carefully evaluate your needs. For example, the videos Monarch Media produced for the sex education project mentioned above used student actors and an affordable campus location instead of renting a sound studio. All 33 of the video segments for the course were shot in three days, reducing the overall expenses. As a result, costs were less than 11% of the total course development budget.
Tip #5: Don't Rule Out Self-Production
If you plan to produce videos frequently, developing some in-house capacity to complete some or all of the work may make sense and be easier than you think. Costs for the equipment and software required to create a video have been coming down for the past decade.
For do-it-yourselfers, many local public access television studios offer opportunities to train on and rent high-end video production equipment. Check out your local public access studio for more information.
You may also want to research buying the equipment itself. Today a professional video camera, lighting, wireless microphones, backdrops, and editing software can all be purchased for less than $25,000, especially if you can find a deal on used equipment. If you have an unused conference room where you can control external noise and lighting, you can also create a good in-house video studio.
If you decide to go the do-it-yourself route, don't forget to budget adequate time and money for training. Expect to invest several weeks in learning the correct ways to light, shoot, and edit video and sound, and give yourself plenty of time to make and correct mistakes for your first couple of projects.
Take Action!
If you are afraid of video, now is the time to get over it. More and more users expect video as part of their online experience. Web video is on the rise—now accounting for 51% of total U.S. Web traffic. If you keep the above tips in mind, you can include video that will be invaluable to learners and enhance your online course.
The RTRworks! project described above was funded by the National Institute of Mental Health (#2R44MH07235-02A1). The content of this article is solely the responsibility of Monarch Mediaand ETR Associates and does not necessarily represent the official views of the National Institute of Mental Health or the National Institutes of Health.
If you would like more information about how Monarch Media can help you develop video for your next eLearning project, please make an inquiry.