The need for eLearning may be clear, but deciding the best way to deliver it can be tough. With the rise of mLearning, mobile platforms abound — from Apple's iOS, used in iPhones and iPads, to Google's Android.
These technology differences can create real content delivery dilemmas. For example, if you've spent the last decade building a library of learning resources in Flash and suddenly discover that the majority of your customers are buying iPhones that don't support Flash, it can throw a major wrench in your plans.
One way to address this is by creating open-standard learning objects (OSLO™) that increase content portability across platforms and devices.
Technical Challenges
Although the Web itself has seen its share of changes in recent years — from the rise of Web 2.0 technologies to the move toward the new HTML5 standard — the rising Mobile technology decision tree popularity of mobile computing is raising a host of new issues. Beyond the obvious challenges of making your content accessible on different mobile operating systems and devices, learning providers also need to decide between delivering material via a dedicated app or a mobile Web browser.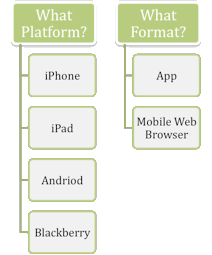 Apps generally provide faster performance and greater capabilities. But an app must be coded for a particular mobile platform (and occasionally even for a single device). This can significantly raise development expenses.
Content delivered via a mobile Web browser, on the other hand, can generally be used on any device with an Internet connection and a compatible browser. Mobile Web content, however, is generally much slower to access, even on faster 3G phone networks. It also can't as easily take advantage of features available on different devices, such as accelerometers and GPS chips.
Know Your Audience
The best way to surmount these technical issues and changing technologies is to know your audience and plan carefully. If you're trying to reach your company's employees, who all carry a company-provided iPad, your decision is easy. A dedicated iOS app will probably be your best option.
The best way to surmount technical issues and changing technologies is to know your audience and plan carefully.
But if you want to reach a mass audience using a wide array of devices, you will need to either invest in building an app for each platform you want to cover or create a more limited mobile Web experience.
Open-Standard Learning Objects
If you need to maximize your content's portability and reusability — making it accessible to both PC users and mobile browsers — you'll want to carefully consider putting it online using open-standard coding languages, such as HTML5, XML, JQuery, PHP, and Ajax. Although these standards are evolving themselves, they provide a number of advantages for eLearning content providers, including:
Support by all major PC and mobile browsers
 Fast loading times
No browser plug-ins required
No content quantity limitations
High flexibility and scalability
You can also reduce your long-term development costs by creating collections of the elements you use most often in your online courses. For example, Monarch has developed a library of open-standard learning objects (OSLO™), which offer customizable, plug-in functionality for many of the most common eLearning interactions, such as:
Drag-and-drop activities
Fill-in-the-blank questions and scenarios
Games
Flash cards
Audio listening exercises
Matching and sequencing activities
Image-based exercises and scenarios
Future-Proofing Your Content
Web and mobile technology will continue to evolve, and the challenge of keeping your eLearning content up-to-date and compatible with new platforms and machines won't go away. But by building your online courses and materials using open-standard Web coding technologies, you'll have a clear portability advantage over proprietary Web platforms, such as Flash.
Because open-standard code bases are free and available for easy customization and updating as requirements evolve, by using them you'll help "future-proof" your content. And that, in a constantly changing eLearning technology landscape, can help you save costs and time down the line.
If you would like more information about Monarch Media's experience with open standard-based eLearning development or its OSLO™ library, please contact us.