Public health professionals monitor and diagnose the health concerns of entire communities and promote healthy practices and behaviors to ensure populations stay healthy. Thanks to issues ranging from technology to globalization, it's a truism that today's public health organizations must adapt to – and embrace – rapid change to sustain healthy communities. One way they can improve productivity, respond nimbly to changes, and optimize their budgets is through implementing online training programs.
Online learning technology provide tremendous value to public health organizations, as it allows them to deliver more effective trainings and programs to their clients anytime, anywhere. It helps them support high-quality performance standards for health education and promotion. Today's eLearning technology is easier to use, which makes moving training programs online quick and efficient, increasing both the reach and frequency of key message delivery.
Key Benefits
Online training allows you to deliver low-cost, easily accessible, skill-based instruction that can help public health programs meet their objectives. Some of the main benefits include:
Effective: Research shows that online training can equal or exceed classroom-based learning. It helps ensure fidelity to a curriculum, can use interactivity to improve knowledge retention, and allows learners to review content again and again.
Quick and easy to access: When you launch an online training, users have immediate access rather than having to wait for the next classroom offering.
Cost savings: Online courses can save organizations money, as once developed they can be offered again and again for little additional cost.
Convenient: Resources can be accessed anytime from any Internet-connected computer or mobile device.
Monarch Media has worked with a number of public health organizations in moving their trainings online. One example is a project we completed for the Iowa Alcoholic Beverages Division (ABD), which wanted to provide a training program for tobacco and alcohol retail employees across the state.
The trainings covered the laws and best practices needed to avoid selling tobacco and alcohol products to minors. The courses allow employees to sign up, participate in the interactive class, and take a test to become certified. Utilizing the Sakai learning management system (LMS) and Articulate course authoring tool, Monarch Media developed the current Web-based training program.
Leveraging their new online resources, Iowa ABD was able to significantly increase the number of people trained each year compared to their previous face-to-face classes. Since the launch of the tobacco course in 2010, and the alcohol course in 2012, the programs continue to certify more than 100 unique users per day.
Because the online format makes the courses easy to access anytime, anywhere, nearly 80 percent of all users complete a course in one session, making learning immediate for the ABD's diverse learner base. Implementing the online program also provided a number of cost-benefits for the organization. By replacing more than 300 annual face-to-face sessions with an eLearning course, Iowa ABD was able to cut costs and increase fidelity to the training content. Monarch Media tailored the online programs' design, toolset, and reports to meet the ABD's requirements, also saving costs on administering and tracking certifications and reporting to the state government.
Since the training was launched, more than 131,000 alcohol and tobacco vendor employees have registered for the trainings, which helps the state of Iowa minimize the number of underage purchasers of alcohol and tobacco products.
The ABD is just one of many organizations dedicated to improving public health that has benefitted by taking their training online. These Web- and mobile-based training programs let learners keep up with best practices and boost their skills and knowledge.
Next Steps:
If you're considering moving a training online, you should weigh these factors as part of your decision process:
Ease of use: Learners, trainers, and administrators are all negatively impacted if the technology gets in the way of effectively managing and delivering great training programs. You should carefully consider what solutions would best and most easily meet your needs.
Meeting different learning needs: Trainers moving training online quickly find new opportunities to serve different audiences. Smart tools will accommodate small and large audiences alike.
Speed of deployment: Good opportunities often fail because of "analysis paralysis." Consider how quickly you can get started, target your most obvious opportunities to move a training online, and then evaluate the impact of the course.
The Bottom Line
Moving your training online shouldn't be an all-or-nothing proposition. Live, online training provides a unique way to reach your clients, employees, and other stakeholders quickly and effectively. The opportunity to increase the reach of your key messages is large and the long-term cost can be relatively small.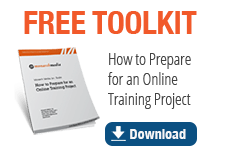 Ready to take your training online? It's easy to get started and move forward one step at a time. This toolkit will walk you through other key considerations to help you start planning your first online course.