Planet eLearn Spring 2015 / by Claire Schneeberger, Marie Williams, and Rebekah Jacobson
If you're involved in education—whether in the classroom or in an adult training setting—there's a good chance you've heard the word "gamification." Gamification has received a lot of attention in recent years as a strategy for applying game playing to learning to engage learners.
Perhaps the biggest benefit of gamification is that it challenges and encourages learners to get actively involved and motivated in the learning process, as opposed to passively receiving information. Through puzzle solving and game play, the benefits of gamification are high—full user engagement, often accompanied by a rewarding sense of excitement, achievement, and performance.
But what's the evidence that outcomes actually improve with gamification? In fact, the emerging research is stunning. For example, extensive studies conducted by Dr. Richard Blunt, Director of Plans and Programs for the U.S. Department of Defense's Advanced Distributed Learning Initiative, found that lessons formatted as games significantly increased academic performance, regardless of gender or ethnicity [1]. And this positive trend held true for all learners from 18-40 years old.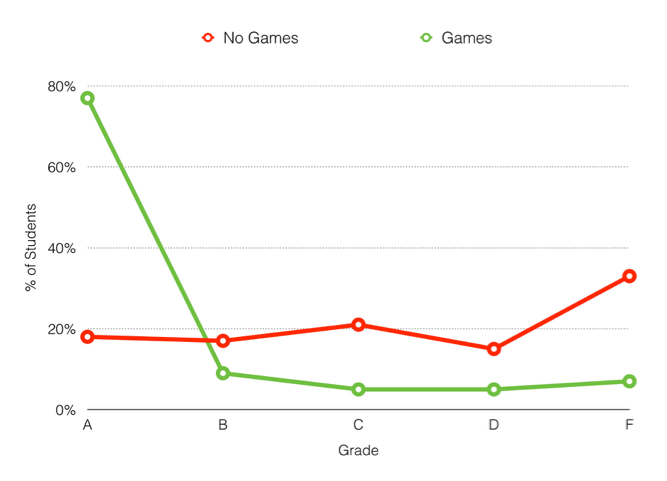 Games Improve Performance
This figure shows the distribution of grades with and without game play for 3rd year management students at an East Coast University.
Blunt, R., Does Game-Based Learning Work? Results from Three Recent Studies. Unpublished manuscript. Advanced Distributed Learning. http://www.rickblunt.com/blunt_game_studies.pdf
Of course, simply playing a game is just the beginning. Within a learning game, you can fine-tune the experience to improve user motivation and retention. When playing any game, users experience an internal seesaw of emotive reaction. For example, players will feel anxiety if the task is too difficult, and they'll experience boredom if it's too easy.
The solution is to design learning games that can recognize when players reach an anxiety peak or boredom valley and adapt to their particular needs. This is where computer adaptive learning is your best friend. In an eLearning environment, you can keep your learners engaged by dynamically assessing their skill and adjusting the difficulty of their learning path appropriately.
Gamification can apply to just about any learning situation. Here are just a couple examples of gamification that our team has developed.
My American Farm – Power Up
This fully interactive game sends the user through various scenarios to "power up" regions around the world, employing them as Energy Experts to learn about sustainability and energy resources. Developed for 3rd-5th graders, the game is designed so that the more points students earns, and the higher level of "energy mastery" they achieve, locked levels open up to make this game challenging as a save-the-world scenario.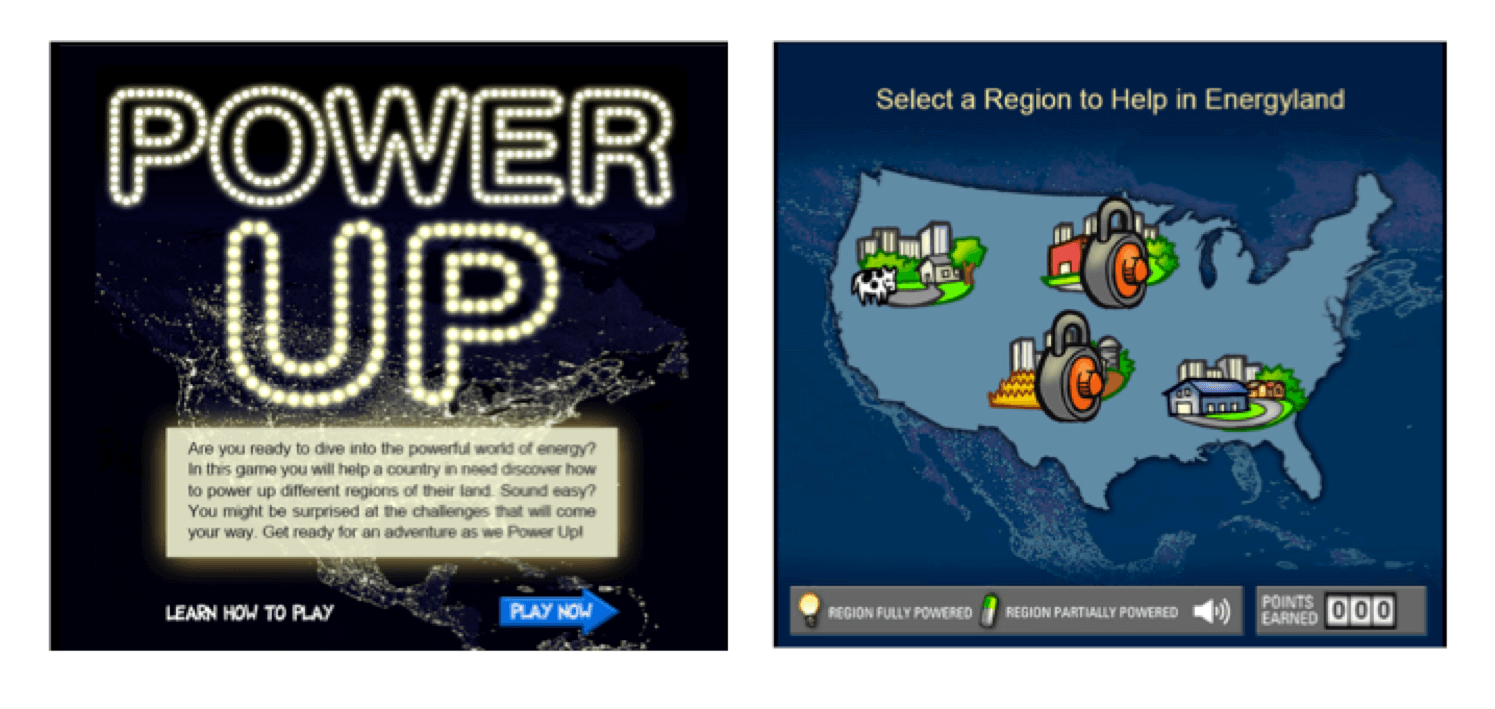 http://www.myamericanfarm.org/classroom/games
Health Net Brand Training
Adults want to have fun, too! This corporate training sends users through a self-directed set of games to help new employees learn about the Health Net brand. Using scenarios, definitions, and a company toolbox, employees are given the necessary information to provide clients and partners with best practices and excellent customer service. Games are used to engage and give learners a chance to practice new skills, with videos interspersed throughout the activities. A certificate of achievement is completed along the way as the employee finalizes each game throughout the course.

---
References
SUBSCRIBE TO OUR eLEARNING NEWSLETTER