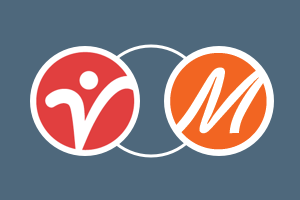 After 12 years working together as strategic partners, Monarch Media and Vivayic have officially come together as one company. In August 2020, Vivayic, Inc. acquired Monarch Media to further develop the strengths of both teams. Taking this step made sense given our shared values about running mission-driven businesses, attracting and developing the best and brightest staff, and building innovative user-centered solutions. Most importantly, we share a passion for designing learning experiences that make a measurable difference for our clients.
By combining Vivayic's experience in learning strategy with Monarch's eLearning and technical expertise we are able to offer a deeper bench and a broader range of solutions to our customers. Here's a case where "one plus one equals way more than two."
Monarch will operate as a division of Vivayic. Clients can expect the same outstanding service and a seamless continuation of current projects. Leaders from both organizations are committed to listening to clients to understand what we can do to be an even better partner in the future. That input will guide decision making for further integration of teams, systems, and processes while leveraging the opportunity to add new capabilities and services.