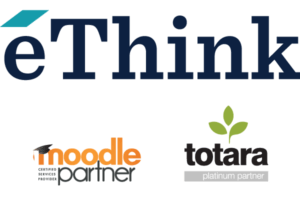 eThink Education, a world-class eLearning provider, announces a partnership with Monarch Media, an industry leader in designing and developing customized eLearning content, course, and curriculum solutions. Through this partnership, eThink is able to offer clients access to Monarch's consultative content development and programming services.
eThink Education provides fully-managed solutions for open-source Moodle and Totara Learning Management Systems (LMS) including cloud hosting, implementation, integration, consultation, and management services.
"eThink Education's focus on a fully-managed eLearning solution for open-source Moodle and Totara is very well-aligned with Monarch's focus on designing thoughtful eLearning content and courses. We serve similar markets across Education, Healthcare, Government, Nonprofit, and Corporate and this partnership is a great fit for organizations looking for a one-stop technology plus content solution," said Monarch CEO, Greg Flesher.
"Our clients look to us to provide expert guidance in putting together a comprehensive eLearning solution", said Brian Carlson, CEO & Co-Founder of eThink Education. "That includes all aspects of content development from strategy consulting to instructional design and interactive programming. We're looking forward to working with Monarch Media to offer our clients a great option for developing custom content solutions."
About eThink Education
eThink Education provides a world-class, fully managed eLearning solution including implementation, cloud hosting, integration, consultation, and management services for open-source Moodle and Totara. Managed by experts, eThink's total solution provides a dynamic and customizable platform to meet specific institutional and organizational needs. With clients in various industries including Education, Healthcare, Government, Nonprofit, and Corporate, eThink can help all types of organizations to maximize the effectiveness of their eLearning programs for improved business outcomes. To learn more about eThink Education, please visit www.ethinkeducation.com.
About Monarch Media
For more than 20 years, Monarch Media has been expertly delivering inspired and innovative eLearning, training, and improvement solutions and is deeply committed to the power of education to improve lives and empower individuals. Monarch was recently recognized as a 2018 worldwide Top 5 High Value eLearning Content Provider by eLearningIndustry.com. More details on the Monarch project portfolio, team and open source mission can be found at www.monarchmedia.com.
Contact:
831-457-4414
SUBSCRIBE TO OUR eLEARNING NEWSLETTER