Santa Cruz, CA, June 26, 2015 –Monarch Media, Inc., a leading provider of custom digital training and education solutions, is pleased to announce our recertification as a California Green Business by the Monterey Bay Area Green Business Program and our pledge to become carbon neutral in 2015 with COTAP.org.
Since our founding, part of our mission has included being socially responsible. As founder and CIO, Claire Schneeberger puts it, "Our goal is to be responsible world citizens, and operating in a sustainable manner is a part of how we live up to that responsibility."
Monarch first became Green Certified in 2008 and has continued its commitment to the environment as it has grown. Some of the ways we are green include:
Recycling programs, including educating employees on what is recyclable using eLearning tools.
Working digitally and being almost entirely paperless.
Publishing a monthly environmental newsletter about new environmental findings and tips for improving environmentalism at home and in the office.
Signing up with PG&E to be a carbon-neutral energy buyer.
One of our exciting new initia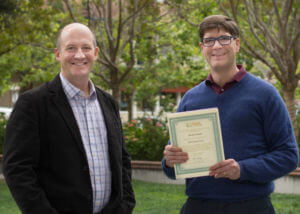 tives in 2015 is purchasing carbon credits from CoTap.org, which allows us to both help the environment and contribute to poverty alleviation.
To thank Monarch Media for its efforts, Tim Whitley, COTAP.org Founder, wrote "On behalf of the people of San Juan de Limay Nicaragua, the Albertine Rift in Uganda, Dowa & Neno in Malawi, and the Khasi Hills of India, COTAP thanks you and your organization Monarch Media for hiring them to remove 56 tonnes of your CO2 emissions out of the atmosphere!"
"Protecting the environment is one of Monarch Media's core values," says Monarch Media's CEO Chris Bush. "As a company, we're focused on improving the world through learning, and we see doing that in an environmentally friendly way as key. Re-certifying as a Green business and adding the new carbon offset program is helping us live up to these values."
About Monarch Media
Monarch Media is a leader in creating eLearning and mLearning solutions across the globe. For more than 17 years, it has helped leading corporations, government agencies, universities, schools, and nonprofits accomplish their training and educational goals by blending the right technology solutions with superior instructional and user experience expertise to deliver effective, compelling online learning experiences. For more information, visit dev-monarchmedia.pantheonsite.io.
Contact
831-­457-4414
###
SUBSCRIBE TO OUR eLEARNING NEWSLETTER