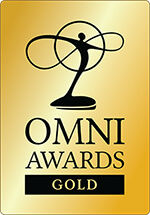 Santa Cruz, CA, July 13, 2015 – The Omni Awards has recognized Monarch Media with two Gold Awards in the Educational Category of the Spring 2015 contest. The Omni Awards recognize outstanding achievements in film and video, Web, and mobile media. Monarch Media won gold for its work on the Autodesk Digital STEAM Workshop (recently renamed the Autodesk Design Academy) website and for its Section 508 Compliance for Digital Content video.
The Omni Awards are highly competitive and receive entries from across the world. To date, they have received entries from all 50 U.S. states and more than 47 countries.
The Autodesk Design Academy is the primary portal Autodesk, Inc., uses to deliver educational content to learners interested in design. The site delivers STEAM-based curriculum (science, technology, engineering, arts, and math) to develop the next generation of innovators using Autodesk's suite of products. To view the site, go to: http://academy.autodesk.com/
To help our clients understand Section 508 accessibility requirements, Monarch Media developed an interactive video titled Section 508 Compliance for Digital Content. It introduces viewers to the standards and best practices. They learn:
Concepts and critical requirements for being Section 508 compliant
Tips on how to make your eLearning both accessible and usable, such as ensuring you include instructions to help users find what they need
Definitions of the terms associated with accessibility requirements
A case study that brings everything together
You can view the video on Monarch Media's YouTube channel.
About Monarch Media
Monarch Media is a leader in creating eLearning and mLearning solutions across the globe. For more than 17 years, we've helped leading corporations, government agencies, universities, schools, and nonprofits accomplish their training and educational goals by blending the right technology solutions with superior instructional and user experience expertise to deliver effective, compelling online learning experiences.
About The Omni Awards:
The Omni Awards are owned and operated by Media Corp Inc., which exists to recognize outstanding media productions that engage, empower and enlighten. We are primarily focused in the converging fields of Film, Video, TV, Website and App development. As a nationally known award competition, we have developed our reputation by only awarding those people who exemplify the highest standards of quality.
Media Corp, Inc., is also dedicated to educating and training higher education students. Media Corp, Inc., has participated in training students for several events, including every Olympics since 1988. We believe that today's students will lead tomorrow's media companies. By offering them real-world experience during these formative years, they will be able to handle the stress and challenges of tomorrow.
Contact
831-­457-4414
###
SUBSCRIBE TO OUR eLEARNING NEWSLETTER