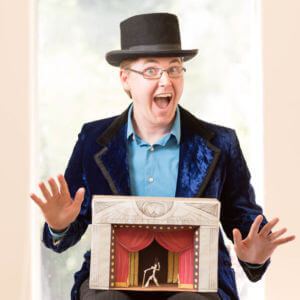 Dan Dye
Senior eLearning Strategist/Producer
Dan thrives on creating solutions that deliver concrete results and fostering environments that put learning at the center of decision-making.  A self-described conceptual thinker, Dan enjoys a broad range of topics and disciplines, particularly when they provide an opportunity for learning, or improve the quality of life for people. As a digital professional for over 15 years, Dan excels at marrying business goals with end user's needs in order to create custom solutions that are both excellent experiences, and deliver upon the business objectives.  With hundreds of projects under his belt, and the ability to speak fluently with business stakeholders and technical resources, Dan is very adept at defining and clarifying business strategy, breaking the strategy down into actionable solutions, and leading technical teams to deliver them.
Dan graduated from the Neighborhood Playhouse School of Theatre in New York, and often attributes his success in business what acting taught him about human behavior, believing that the greatest successes a business can achieve are realized when individuals can emotionally connect to the vision of their company.
Interests & Hobbies:  Art, haiku, writing, acting, photography, voice over, disc golf, being a present husband and dad
Skills: Project and program management, agile and waterfall project management methodologies, experience design, learning centered business strategy, graphic design, digital product management, technical liaison, ecommerce, copywriting and digital marketing
We've worked with other eLearning vendors and Monarch has consistently been among the best. Their expertise and approach to online training and support make them a pleasure to work with on a variety of projects.
R.F., Director of Educational Innovation
ETR Associates
We highly appreciate the professionalism and work ethic of the Monarch Media team. They demonstrated uniquely high level of commitment to quality and excellent responsiveness to suggestions and recommendations.
A.H., Sr. Agriculture Economist
World Bank Group
The timeliness of all communication, deliverables, and other requirements was exceptional. The team consistently completed all tasks on or ahead of schedule and were eager to receive feedback. . . . To be quite honest, Monarch Media's project management is the best we have ever seen and as an organization, we learned a great deal from their team in this area.
R.P., Director
Guardians of Honor
Monarch Media was instrumental in helping us choose appropriate platforms and structures for our various eLearning activities. . . . It has been a pleasure working with Monarch Media staff over the past five years. They helped us to accomplish many of the goals for our project and create many highly effective training opportunities for our stakeholders.
C.M., Director
California State University
Monarch is really easy to work with. Everyone is easy to get ahold of. If we need updates or upgrades, we'll get a timely answer. Nicki has been great. We really enjoy working with her. She's on the ball, easy to understand and answers to the point. She's fantastic!
J.E., Tobacco Program Coordinator
Iowa Alcoholic Beverages Division
What makes Monarch different? Personal touch, personalities. The project managers are willing to listen to concerns, and propose workable solutions.
L.B., Special Projects Manager
Children's Learning Institute, The University of Texas Health Science Center at Houston
The Monarch project managers came out and sat through our full live course. They gave valuable perspective toward how we needed to approach it for the online version. With their help, the material became more user-friendly.
M.O., Forensic Scientist V
Massachusetts State Police Crime Laboratory
I loved working with Monarch Media. They are easy to work with. They are professional, competent, responsive, organized, and dependable. They do amazing work. They invested in understanding what we needed and delivered on their promise. I highly recommend them.
H.J., Associate Division Director
Division of Applied Social Sciences at University of Missouri
They have an excellent attitude in approaching every project. They bring a great deal of experience and technical resources to bear on projects. They are flexible when needed, and constantly check in on how they are performing. Monarch Media is a fantastic partner.
J.J., Associate Director
Instructional Media, Stanford Graduate School of Business
---