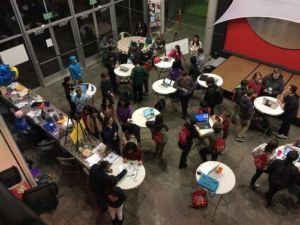 Monarch Media is a proud sponsor of the Santa Cruz Teen Entrepreneur Challenge. Created by teens for teens, this event poses a challenge to students (grades 7 to 12) to design, create and implement a project, all in a day. The purpose is to develop interest in technology, engineering, and design.
Monarch is pleased to support the next generation of innovators right here in our community. "Our mission is to engage kids of Santa Cruz county in computer science, emphasizing the value of creativity and empowering kids with the confidence to believe in their ideas," says Monarch Media Account Manager, Corrina Dilloughery. This challenge is to take place on April 7. Learn more about it at santacruzteenchallenge.com.
UPDATE: April 10, 2018
This year's Santa Cruz Teen Entrepreneur Challenge held on April 7 was carried out with much vigor and enthusiasm. Monarch Media was one among many local companies that sponsored the event, which was kick started by a motivational speech by Monarch Media Account Manager, Corrina Dilloughery.
Participants included students from grade 7 to 12, who designed projects that competed in the categories of technology, design, and movement, with each category having a different objective. After coding and designing their products, the teams pitched their ideas to a panel of judges from local tech companies.
SUBSCRIBE TO OUR eLEARNING NEWSLETTER