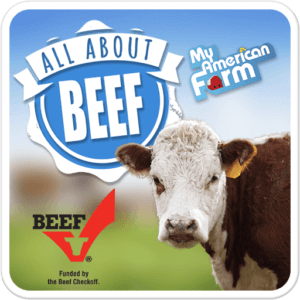 This year, My American Farm has been recognized for excellence in the mobile app, mobile game, and interactive kiosk categories. My American Farm is an education project from the American Farm Bureau Foundation, which provides children grades K-5 with interactive games that teach math, reading, sciences, and social studies within an agriculture context. Monarch Media developed the app in partnership with Vivayic.
The award-winning app, All About Beef, features two games, The Steaks are High and Grocery Grab, which are geared toward students grades 3-5. Through interactive challenges, players explore the world of food production. In addition to teaching nutrition and environmental facts, the app also includes kid-friendly recipes.
All About Beef is available for tablets and smartphones on the App Store, Google Play, and Amazon. To learn more about the My American Farm project you can visit the website. You can download the award-winning All About Beef app by following the links for your device on the mobile download page.
SUBSCRIBE TO OUR eLEARNING NEWSLETTER