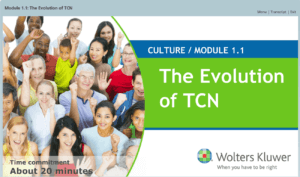 We're proud to congratulate Wolters-Kluwer on their award for one of the best nursing and health care publications of 2015 recently announced in The American Journal of Nursing's (AJN) annual Book of the Year Awards. AJN recognized the best nursing and health care publications of 2015, with Wolters Kluwer winning in the category of Electronic Media for their Transcultural Nursing: RN to BSN course.
The AJN Book of the Year award is a prestigious competition, which garners the attention of the international nursing community and supporting health care publishers. A panel of judges who range from college professors to clinicians to nursing executives, select the most valuable publications in 20 different categories. The Book of the Year Award is their opportunity to recognize high-quality publications, which have impacted the health care community.
Their Transcultural Nursing: RN to BSN course can be used in distance learning or hybrid learning format increasing its popularity among nurses nationwide. RN students often need flexibility to earn their degrees while working full or part time, making online or hybrid learning preferable.
Monarch Media's team collaborated with Wolters-Kluwer Health's (WKH) editorial and subject matter experts to provide the learning design strategy, instructional design, curriculum authoring, graphic design, and engineering needed to build the Transcultural Nursing course and seven additional RN courses. The courses were designed using the best practices in the industry that;
Allow learners to explore and browse information and tips in a self-directed manner
Contain video examples to model effective behaviors
Reinforce learning by providing quick knowledge checks
Provide learners an opportunity to view and react to real world situations
Engage users with interesting narration and graphics
Reiterate important information with easily accessible PDF job aids
By incorporating these best practices, Monarch Media has created an innovative and engaging course for Wolters-Kluwer. The American Journal of Nursing (AJN), through their commitment to education, as well as innovations in the field of nursing, has gone on to dub Wolters-Kluwer, "the leading voice of nursing since 1900."
Interested in seeing an introductory video of this project? Click here.
SUBSCRIBE TO OUR eLEARNING NEWSLETTER